Spring summer fall winter… and spring is a beautiful movie. The on-point direction, gorgeous cinematography and superb acting makes it my all time favorite movie.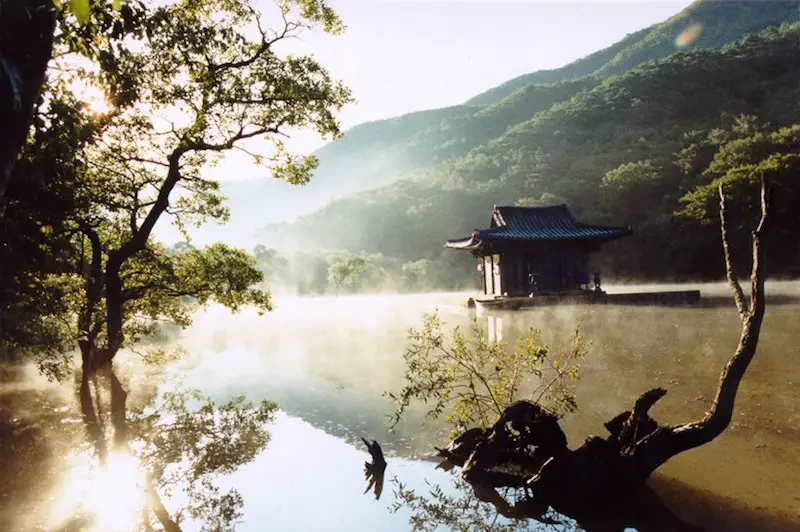 But this movie is much more than the actors and the place where the majority of it was shot (monastery on Jusanji Pond, South Korea).
This movie is an art!
An art that shines light on the fundamental principles of Buddhism like Samsara, Annica and Nirvana as well as basic human emotions like love, lust, pain, innocence and jealousy.
Talking about the structure of the movie,the movie is divided into five parts: spring, summer, fall, winter and spring.
Every part has its own essence and adds to the much bigger narrative that the director has envisioned.
It's a story about a child who lives with a monk and his life progression.
I've watched this movie for more than five times now and every time I watch it, it feels as if a certain part of me has become alive.
It's hard to explain because the movie hits you with so many emotions. I feel existential every time I watch it(but the good kind of existential crisis).
What did I actually learn from it ?
First thing : Change is inevitable
If there's one thing that's constant in the world, it's change.
The nature of the world is change.
*Spoilers Ahead*
The young monk gets married to the girl(who came to the monastery to be treated) and leaves the monastery to stay with her. Few years later, the girl cheats on him and leaves him. The young monk, mad with anger and the pain of betrayal, kills his wife and becomes an exile.
"sometimes we have to let go of the things we like, what you like others will like as well."

Master quotes in the movie.
Change is also shown in how the young innocent monk turns into someone who's jealous and full of lust, commits crime and again changes when he realizes how wrong he was.
"Lust awakens the desire to possess. And that awakens the intent to murder."

Master quotes in the movie.
Your past does not define you
It's only human to have faults. No one is perfect, everyone is learning.
Mistakes are what make you.
Just because you did a horrible thing, that doesn't make you a horrible person. You live, you learn.
Karma and the circle of life
Karma and the circle of life are both recurring themes of this movie.
Your actions define your future. Your present actions are the causes of the future effects.
The monk's wife cheats on him and she gets killed. At the end of the movie, a lady comes to the monastery to abandon her child and drowns in the pothole in the ice on her way back showing Karma.
"For whatever a man sows, this he will also reap"

Galatians 6:7, New Testament

Also, life comes full circle.
The young monk, after going through painful and self reflective times, becomes a master of another young monk who is just like how he was, in his childhood, showing the circle of life.
Conclusion
Every time I watch this movie, I feel like I've learnt something new. I hope to add more to this in the future.